Xilam Animation signs agency deal with Bavaria Media Licensing for its property OGGY OGGY in the GAS-territory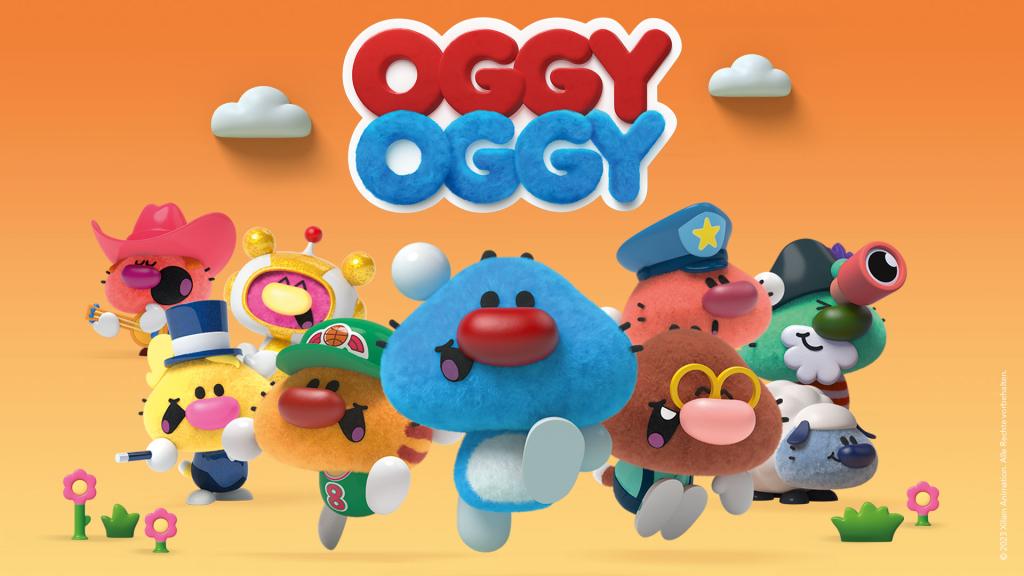 Munich, July 26th 2023 - Bavaria Media Licensing (BML), a division of Bavaria Media GmbH, took over the licensing mandate for the popular OGGY OGGY brand. The international animation studio Xilam has appointed BML as licensing agency for Germany, Austria, and Switzerland. The animated series OGGY OGGY tells the tales of Oggy Oggy, the blue cat who has adventures with his friends Mallow & Sporty in a playful world full of cats.
Luisa Kleinschmidt, Sales Manager, Bavaria Media Licensing: "We're thrilled to be working with Xilam Animation on OGGY OGGY, our new dedicated preschool brand. The unique, catchy design of the series with its adorable and curious characters immediately stole our hearts! In their fantasy playful world, Oggy Oggy and his friends go on various adventures and teach our little ones important values such as creativity, courage and team spirit."
Capucine Humbolt, Head of Licensing and Merchandising, Xilam Animation: "We are delighted to welcome Bavaria Media Licensing as one of our agents for OGGY OGGY. The team's licensing expertise and passion will help to build the OGGY OGGY brand in Germany. We have no doubt that the German market will be flooded with exciting products in the months to come."
The TV series OGGY OGGY has been on German TV on Super RTL since 2022 and has received a strong response from the target group of preschool-aged children. For streaming, the series' two seasons are also available on Netflix and RTL+. On YouTube, OGGY OGGY has also been successful, with more than twelve million views since 2021. The OGGY OGGY brand stands for fantasy, creativity, friendship, and a sense of adventure.
About BAVARIA MEDIA LICENSING:
Bavaria Media Licensing (BML) is a division of Bavaria Media GmbH, a subsidiary of Bavaria Film GmbH. BML has been acting as a full-service licensing agency since 1983, with extensive experience in the field of children's, adult, and lifestyle brands.
Its core business includes brokering brand cooperations such as PLAYMOBIL x ZARA, Janosch x dm or Bud Spencer & Terence Hill x Gustavo Gusto, as well as brand development in German-speaking countries, such as Frida Kahlo (nominated as "Celebrity Brand of the Year 2022"). As a licensing agency, BML currently represents brands such as "Frida Kahlo", "Care Bears", "BIG Bobby Car", "Moomin " and "mdr". It also acts as rights holder for its own and in-house brands "Janosch", "Storm of Love", "Einstein High" and "Das Boot".
About XILAM ANIMATION:
As a major player in the animation industry, Xilam is an integrated studio founded in 1999 that creates, produces, and distributes original programmes in more than 190 countries for children and adults, broadcast on television and on SVoD (Netflix, Disney+, Amazon, etc.) and AVoD (YouTube, Facebook, etc.) platforms.
With a global reputation for creativity and its capacity for innovation, an editorial and commercial expertise at the forefront of its industry, Xilam is positioned as a key player in a fast-growing market.
Each year, Xilam, builds on its real successes and capitalises on powerful historical brands (Oggy and the Cockroaches, Zig & Sharko, Where's Chicky?, etc.) and new brands (Oggy Oggy in the pre-school sector, Mr. Magoo, Karate Sheep, etc.) which are consolidating and expanding a significant catalogue of more the 2,700 episodes and 3 feature films including the Oscar-nominated I Lost My Body.
Xilam has unique GCI skills. Xilam employs more than 600 people, including 400 artists, across its studios in Paris, Lyon, Angoulême and Ho Chi Minh City in Vietnam.
Press contact:
Bavaria Media GmbH
Sebastian Feuss
Company spokesman Bavaria Film GmbH
Phone: +49 89 6499 3900
E-Mail: sebastian.feuss@bavaria-film.de
www.bavaria-media.de/licensing
Xilam Animation
Charlotte Newcombe
DDA Blueprint
Phone: +44 7726 901129
E-Mail: xilam@ddapr.com