BIG Bobby Car as plush toy: Bavaria Media Licensing wins new licensing agreement for the popular children's car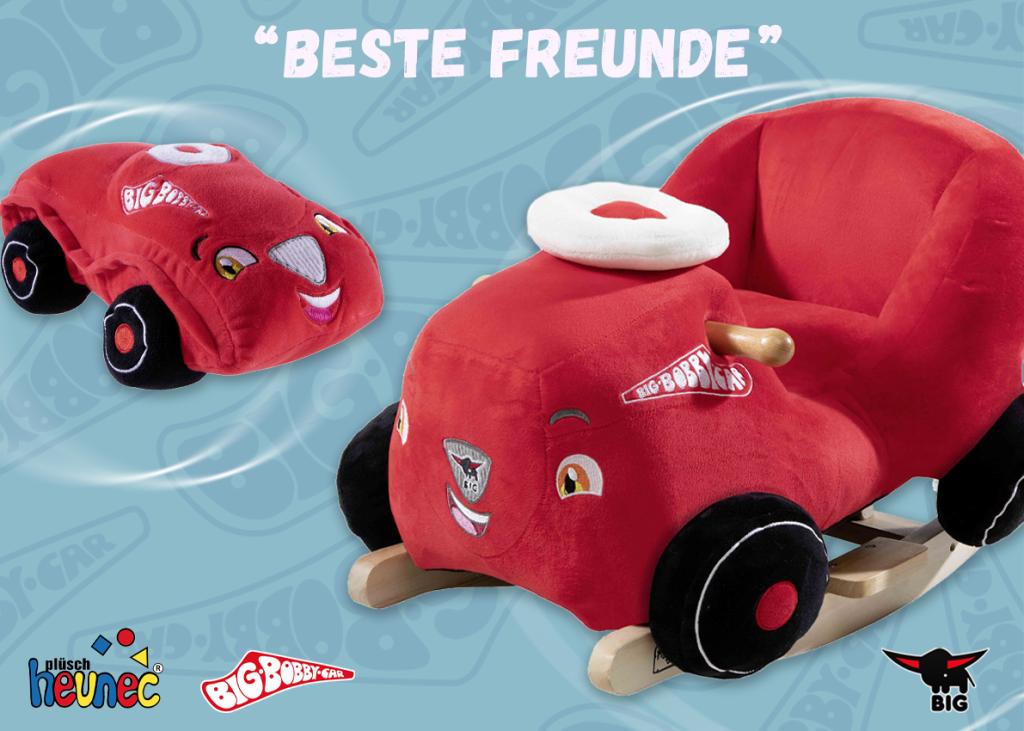 Munich, 23.02.2023 - Bavaria Media Licensing (BML) has signed a new licensing agreement for its client Simba Dickie Group/BIG, manufacturer of the popular "BIG Bobby Car". From now on, the cult children's car is available in stores for the first time as a plush toy and rocker. The products are manufactured by HEUNEC, with whom BML also cooperates for its own brand "Janosch".
The little BIG Bobby Car plush car and the BIG Bobby Car rocker retain the look of the original with its fiery red body and smiling face. Even the characteristic horn of the toy vehicle can be found as a small "squeaker" in the steering wheel. Both products are suitable for children from the first few months of life.
Christiane Lüdtke, Product Development Manager & Graphic Designer, Bavaria Media Licensing: "The BIG Bobby Car is an absolute toy classic that has shaped the childhood of many of us. With the new plush toy and the cute rocker in the unmistakable Bobby Car shape, even our youngest children can finally experience this wonderful brand. We are delighted that we were able to bring together those great partners for this project."
Josephine Dransfeld, Co-Managing Director, HEUNEC - Plüschspielwarenfabrik GmbH & Co.KG: "The BIG Bobby Car is a symbol of childhood - it has accompanied countless generations and given them so many great and lasting memories. We are incredibly pleased to be able to bring this childhood icon to a cuddly life - and hope that the plush Bobby Car will also accompany both small and big fans for a long time."
Thomas Röttenbacher, Managing Director of BIG-SPIELWARENFABRIK GmbH & Co. KG: "We are delighted about the conversion of our bright red children's classic into a cuddly soft plush toy and are excited about the partnership with HEUNEC, wherein we intend to launch joint activities around our popular toy car."     
The red slide car was presented for the first time in 1972 at the international toy fair in Nuremberg. Since then, the BIG Bobby Car has been an integral part of many childhood memories and celebrated its 50th birthday in a major birthday campaign in 2022. Since 2018, Bavaria Media has been the licensing agency for the BIG Bobby Car brand in Germany, Austria, and Switzerland.
About Bavaria Media Licensing:
Bavaria Media Licensing (BML) is a division of Bavaria Media GmbH, a subsidiary of Bavaria Film GmbH. BML has been acting as a full-service licensing agency since 1983, with extensive experience in the field of children's, adult and lifestyle brands. Its core business includes the brokerage of brand cooperations such as PLAYMOBIL x ZARA, Janosch x dm or Bud Spencer & Terence Hill x Gustavo Gusto, as well as brand development in German-speaking countries, such as Frida Kahlo (nominated as "Celebrity Brand of the Year 2022"). As a licensing agency, BML currently represents brands such as "Frida Kahlo", "Glücksbärchis", "BIG Bobby Car", "Moomin " and "Panini". It also acts as rights holder for its own and in-house brands "Janosch," "Storm ofLove" and "Das Boot.
About HEUNEC - Plüschspielwarenfabrik GmbH & Co.KG:
This family-owned company from Neustadt near Coburg, Bavaria, has been producing high-quality plush toys since the 1950s. Every year, 2.5 to 3 million plush toys are produced. In addition to a large selection of its own creations, Heunec also offers numerous, iconic children's characters and figurines made of high-quality plush as an official license partner.
About SIMBA DICKIE GROUP/BIG:
The BIG Spielwarenfabrik, manufacturer of the well-known BIG Bobby Car ride-on vehicle, has been part of the SIMBA DICKIE GROUP since 2004. 
As one of the top five toy manufacturers in Europe, the SIMBA DICKIE GROUP is active around the globe with approximately 2,900 employees. In 2022, the group reported sales of 701.9 million euros. Founded in 1982 by Fritz and Michael Sieber, the family-owned company has now been managed by Florian Sieber as CEO since May 1, 2021, in the third generation. Almost all toy categories for every age group are represented under the umbrella of the company group. The range includes more than 4,000 inspiring items - from the popular BIG Bobby Car and playhouses from Smoby Toys to the Steffi Love dress-up doll from Simba Toys, wooden building blocks from Eichhorn and toy cars from Majorette and Dickie Toys. The Group's corporate philosophy can be summed up in five words: "We love to make toys". This is also reflected in the company's guiding principles: consumer focus, simplicity, people at the centre, integrity, sustainable success, diversity. Our vision is: We want to play an essential role in everyone's childhood - being the most passionate family-owned toy company.
Press contact:
Bavaria Media GmbH
Sebastian Feuss
Company spokesman Bavaria Film GmbH
Phone: +49 89 6499 3900
E-Mail: sebastian.feuss@bavaria-film.de
www.bavaria-media.de/licensing
HEUNEC - Plüschspielwarenfabrik GmbH & Co.KG
little big things GmbH
Eva Stemmer and Antonia Neulinger
Corneliusstr. 28
80469 Munich
e.stemmer@littlebigthings.de, 0172 - 89 68 88 9
a.neulinger@littlebigthings.de, 0176 - 70 71 30 84     
SIMBA DICKIE GROUP/ BIG
Mrs. Isabel Weishar
Werkstraße 1
90765 Fuerth
Phone: +49 (0) 911-9763 263
E-Mail: i.weishar@simba-dickie.com