"Moomin" jewelry collection by MALAIKARAISS: Bavaria Media Licensing brokers new licence agreement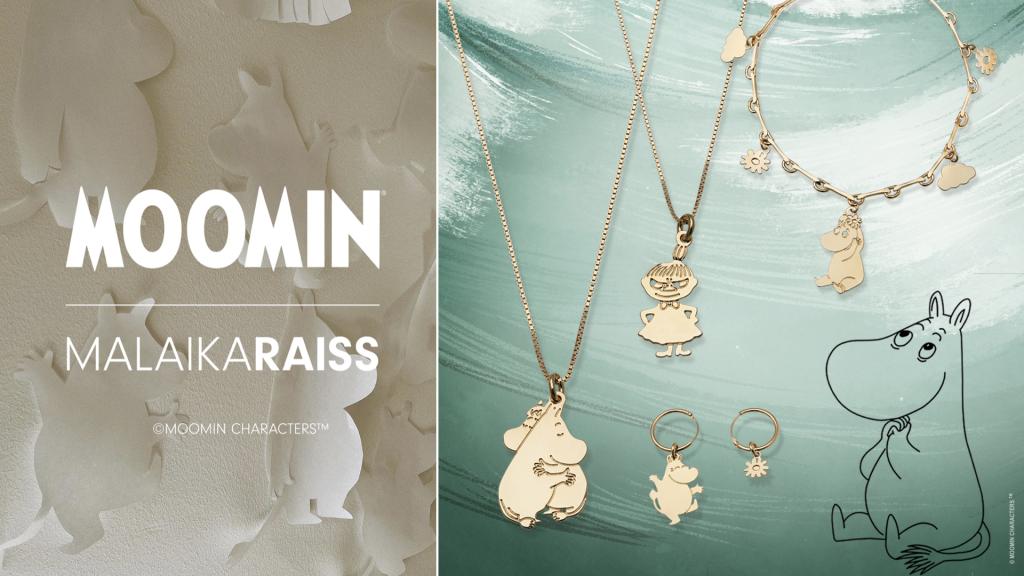 Munich, 20.12.2022 – Bavaria Media Licensing has brought the "Moomins" together with the fashion brand MALAIKARAISS. A jewelry collection featuring the numerous characters from the "Moomin" world has been released on 15 November 2022. The products, made in Germany, range from earrings to necklaces and bracelets. Various items of clothing in the "Moomin" style complete the collection from January 2023.
Susanne Rauh, Brand & Marketing Manager, Bavaria Media Licensing: "The characters from the Moomin Valley enjoy a high level of popularity and cult status across generations. Now, we are delighted to add a new dimension to the 'Moomins' product world through our collaboration with MALAIKARAISS."
Malaika quote: "I like to translate childhood memories into playful designs – with Moomins as one of my personal heroes, it is a dream come true to see this collection happening. I feel as a Finn by heart, so it makes me beyond proud, that we as a German fashion brand were given the opportunity to collaborate with Moomin."
Bavaria Media Licensing manages the licensing business of the Finnish Moomin Characters Oy Ltd. in the DACH region, which is known for its "Moomin" brand. The "Moomins" were invented by the Finnish-Swedish writer and artist Tove Jansson. Between 1945 and 1970, nine "Moomin" books, four picture books and numerous comic strips were published for the English newspaper "Evening News".
The products are available online: www.malaikaraiss.com.
About Bavaria Media Licensing:
Bavaria Media Licensing (BML) is a division of Bavaria Media GmbH, a subsidiary of Bavaria Film GmbH. BML represents brands such as "PLAYMOBIL", "The Smurfs", "Frida Kahlo", "Bud Spencer" and "Terence Hill", as well as "Care Bears", "Moomin", "Panini" and "Janosch".
About MALAIKARAISS:
In 2015 MALAIKARAISS acquired an exclusive license for Stars Wars licensed jewelry from 'Lucasfilm Limited a Walt Disney Company'. The collection was an instant hit and the brands international breakthrough. It was a major impact on the company´s growth.
Moomin x MALAIKARAISS following in the footsteps of this iconic universe is a logical step for the brand, targeting the Scandinavian market but also standing for Malaika´s personal connection to the characters and designs.
About Moomin Characters Oy Ltd:
Moomin Characters Oy Ltd is the official copyright holder of all the Moomin characters. All characters from Moominvalley are trademark registered worldwide. The Moomins are central characters in a series of books and comic strips written between 1945 and 1980 from Tove Jansson (1914-2001), Finnish-Swedish writer and artist. They are one of Finland's biggest exports and have a global fan base.
The company was founded in the 1950's by Tove Jansson and her brother Lars Jansson to take care of the copyright of the Moomins and is still run by family members. Rights and Brands is the worldwide licensing agent of the company.
Find out more about Tove Jansson and the Moomins here:
Press Contact:
Bavaria Media GmbH
Sebastian Feuß
Company spokesperson Bavaria Film GmbH
Phone: +49 89 6499 3900
E-Mail: sebastian.feuss@bavaria-film.de
www.bavaria-media.de/licensing