"Bud Spencer" Gin: Bavaria Sonor Licensing wins new license partner for cult brand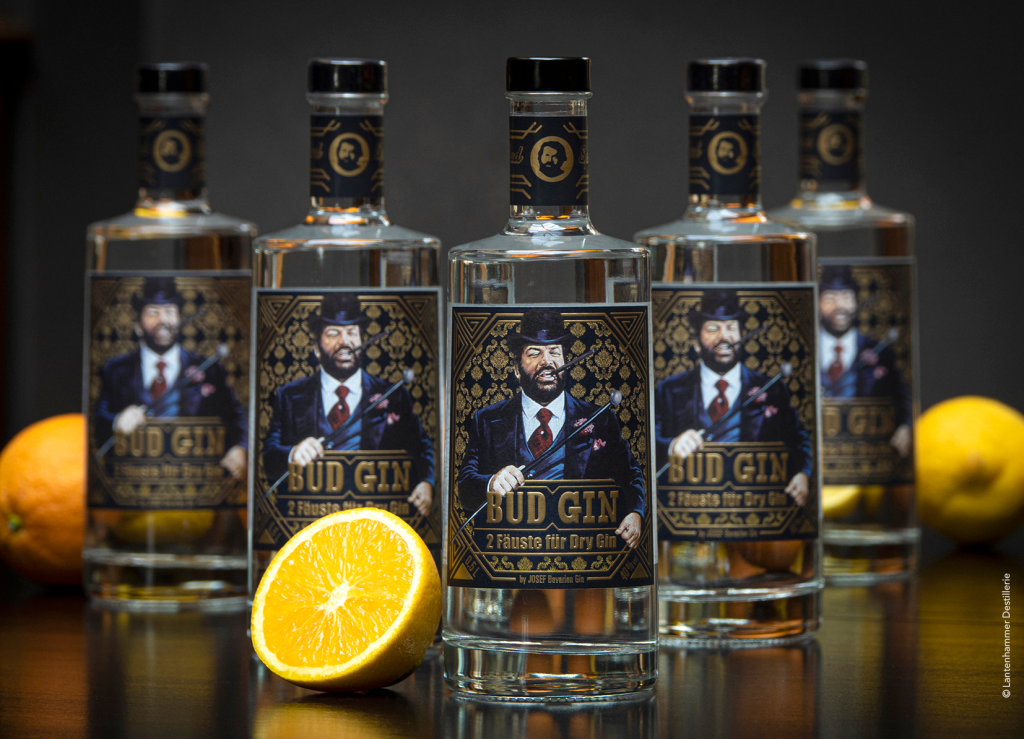 Munich, 10.03.2022 - Bavaria Sonor Licensing (BSL) has successfully placed the "Bud Spencer" brand with Lantenhammer Distillery. Under the In-house brand JOSEF Bavarian Gin, the "BUD GIN - 2 Fists for Dry Gin" is now available in stores as a special edition in 0,5L with 40% Vol. The BUD GIN is made exclusively from organic quality ingredients and meets the spirit of dry gin with its juniper and citrus notes.
Ivica Maracic, Licensing & Sales Director Bavaria Sonor Licensing: "Lantenhammer Distillery's long-standing expertise and high-quality standards have given us complete confidence in our new 'Bud Spencer' Gin. The 'BUD GIN - 2 Fists for Dry Gin' will blow away both movie and gin (tonic) lovers."
Tobias Maier, Managing Director and Master Distiller of the Lantenhammer Distillery: "With the new BUD GIN, a long-standing dream of ours comes true. As a distinguished distillery, we produce moments of pleasure, which give joy and connect people, just like the cult movies with Bud Spencer. It is especially important to us that we use only the best ingredients to create a distinctive and sustainable dry gin."
BSL was appointed by the rights owner Plattfuss Vertriebs GmbH to expand the product- world around the brand "Bud Spencer" with corresponding licensed products throughout Europe.
About Bavaria Sonor Licensing
Bavaria Sonor Licensing (BSL) is a division of Bavaria Media GmbH, a subsidiary of Bavaria Film GmbH. BSL represents brands such as "PLAYMOBIL", "The Smurfs", "Care Bears", "Moomin", "Panini", "Janosch", as well as "Bud Spencer" and "Terence Hill".
About Lantenhammer Distillery
Since 1928, the Lantenhammer Distillery has stood for first-class fine distillates from master craftsmen and is winning over more and more connoisseurs throughout Germany with its rich variety of fine spirits. The traditional distillery has its roots in Hausham, Bavaria - just five minutes from Schliersee. From there, it continues to set new, creative highlights in the spirits market through premium quality, perfection, and its cross-generational experience.
At Lantenhammer, the passion for the art of distilling always promotes the endeavour to make good things even better. With a clear focus on the origin of the fruit, quality, the most careful processing and by avoiding artificial and nature-identical additives, the young, dynamic team of master distiller and managing director Tobias Maier also creates the BAVARKA Vodka, the JOSEF GIN, the RARITAS liqueurs, the "Aperitivo Bavarese" GIN CHILLA, the Bavarian Rum RUMULT and SILD Whisky in addition to the precious selection of fine spirits, liqueurs and fruit cuvées.