BSL brings the "Bud Spencer" brand together with Piasten Chocolate Beans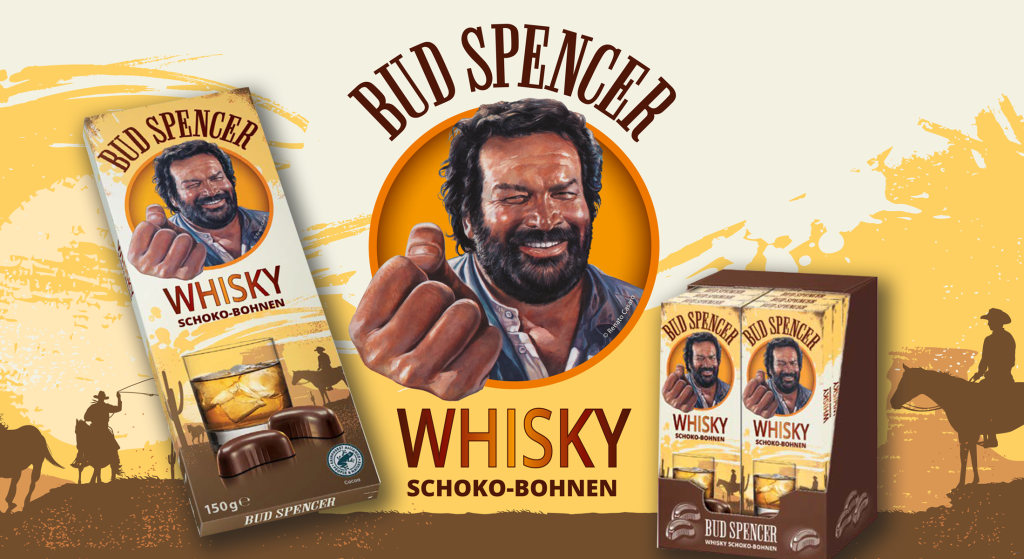 Munich, January 18th 2021 - Bavaria Sonor Licensing (BSL) has secured a new licensing partner for the "Bud Spencer" brand. The praline, sugar-coated sweets and chocolate manufacturer Piasten will be bringing "Bud Spencer Whisky Chocolate Beans" to retailers from February 2022.
In the style of numerous Western movies, in which beans are the favorite dish of the hard-boiled characters played by Bud Spencer, Piasten's chocolate beans are enhanced with blended malt whisky. Even the packaging reminds one of a trip to the desert with the Western action hero.
Ivica Maracic, Licensing & Sales Director Bavaria Sonor Licensing: "Beans and whisky belong to Bud Spencer like nothing else. We are therefore very pleased to have found a licensing partner in Piasten that gives the beans a sweet as well as pithy whisky note. There's no better way to sweeten Bud Spencer movies in style."
Marco Bauer, Key Account Manager Piasten: "We are convinced that Bud Spencer would also have been a big fan of these sweet and smoky whisky beans. We are therefore delighted that his family is actively involved in this exciting project. With the cult star of the Italo-Western and our new Whisky Chocolate Bean, we are ready to shake up the alcohol praline market."
BSL was appointed by the rights owner Plattfuss Vertriebs GmbH to expand the product- world around the brand "Bud Spencer" with corresponding licensed products throughout Europe.
About Piasten GmbH
Piasten GmbH was founded in 1923 in Brieg/Upper Silesia and produces chocolates, sugar-coated sweets and pralines. The company, based in Forchheim in Upper Franconia, has around 450 employees, exports to more than 50 countries and has been part of Katjes International GmbH & Co. KG since 2014. The Treets - THE PEANUT COMPANY brand has been part of the company since 2017.
About Bavaria Sonor Licensing
Bavaria Sonor Licensing (BSL) is a division of Bavaria Media GmbH, a subsidiary of Bavaria Film GmbH. BSL represents brands such as "PLAYMOBIL", "The Smurfs", "Lucky Bears", "Moomin", "Panini", "Janosch", as well as "Bud Spencer" and "Terence Hill".