Bavaria Sonor Licensing and Posterlounge launch 'Moomin' license partnership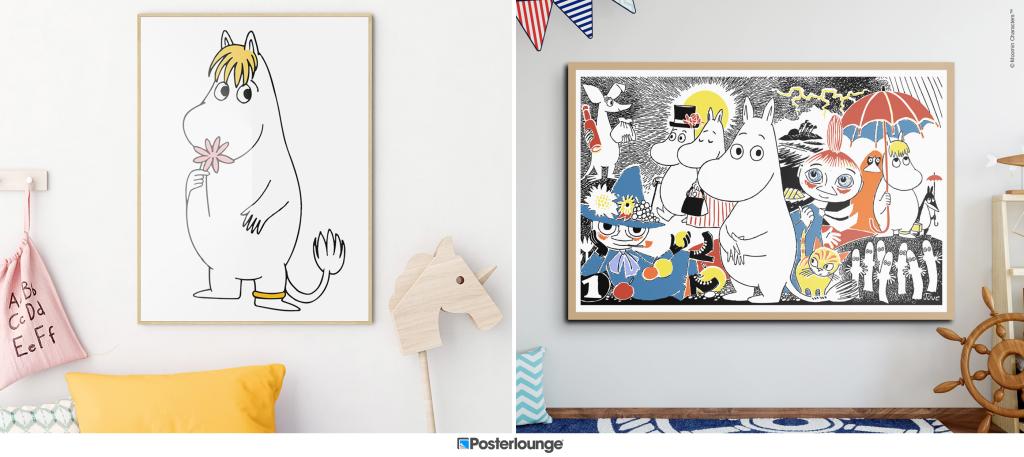 Leipzig, 28/09/2021 – Together with Bavaria Sonor Licensing (BSL), a division of Bavaria Media GmbH, Posterlounge is developing high-quality poster designs of the popular Moomin characters by the Finnish-Swedish author, Tove Jansson.
The bright colours of the lovingly made designs with Moomintroll, Moominpappa, Moominmamma, Little My and the Snorks convey a cheerful feeling that fits perfectly into every child's room. The high-quality prints are produced on demand in its own art print house in Leipzig, Germany, as posters, canvas or aluminium prints – depending on the customer's wishes. The matching picture frames are also handmade.
Big and small fans of the troll-like cult figures can look forward to colouring posters and wall calendars for 2022. The range is to be expanded to include further products.
Mandy Reinmuth, Founder & Publishing Manager of Posterlounge: 'Our goal is to offer the highest quality and most diverse selection of popular licensed designs as prints. Thanks to the collaboration with Bavaria Sonor Licensing, we particularly address our customers in Scandinavia, but there is also a large Moomins fanbase in the rest of Europe too.'
Ivica Maracic, Licensing & Sales Director of Bavaria Sonor Licensing: 'We are very pleased to have won Posterlounge as a licensee for the Moomins. The high-quality wall designs are a perfect addition to the existing licensing programme. Children and adults can look forward to a variety of Moomin designs for their homes.'
The products are available online at www.posterlounge.com.
About Posterlounge
Since 2003, Posterlounge stands for high-quality wall design: true to the motto 'Art for every wall', the company prints on demand timeless photographs, exclusive illustrations and classic art prints on modern materials in its own art print house. As an online shop and art publisher, Posterlounge offers artists the opportunity to market their works with very little effort and thus, use the platform as an additional sales channel. Collaborations with renowned image, license and artist agencies such as Bridgeman Images, Museum Masters and World Art Group complement the high-quality portfolio. For more information, you can visit www.posterlounge.com.
About Bavaria Sonor Licensing
Bavaria Sonor Licensing (BSL) is a division of Bavaria Media GmbH, a subsidiary of Bavaria Film GmbH. BSL represents brands such as 'PLAYMOBIL', 'The Smurfs', 'Masha and the Bear', 'Care Bears', 'Moomin', 'Panini', 'Janosch', as well as 'Bud Spencer' and 'Terence Hill'.
About Moomin Characters Oy Ltd
Moomin Characters Oy Ltd is the official copyright holder of all the Moomin characters. All characters from Moominvalley are trademark registered worldwide. The Moomins are central characters in a series of books and comic strips written by Finnish-Swedish writer and artist Tove Jansson between 1945 and 1980. They are one of Finland's biggest exports and have a global fan base.
The company was founded in the 1950's by Tove Jansson (1914-2001) and her brother Lars Jansson to take care of the copyright of the Moomins and is still run by family members. Rights and Brands is the worldwide licensing agent of the company.
Find out more about Tove Jansson and the Moomins here: