After France, the animation series "Moominvalley" is now also being broadcasted on TV in Germany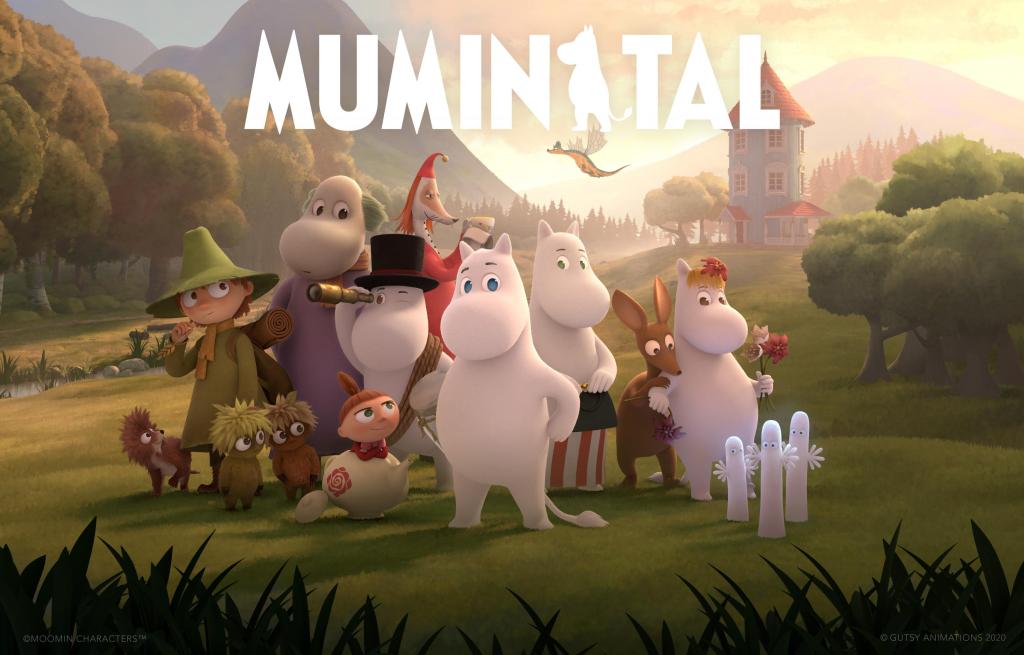 Munich, November 19th, 2020 - At the end of November, the animation series "Moominvalley" (German title: "Mumintal") with the world-famous "Moomin" characters will start in Germany on KiKA channel. Since the beginning of 2020, BSL has had the licensing mandate (for consumer products and promotions) for GAS and France for the licensing of the classic "Moomin" and "Moominvalley", based on the 3D CGI series' title. The episodes can be accessed on the children's pages of the ZDFmediathek after each TV broadcast, with broadcast dates for ZDF to follow in 2021.
Ivica Maracic, Licensing & Sales Director Bavaria Sonor Licensing: "'Moomin' fans can not only look forward to the start of the series, but also to new products in the categories of fashion, audio plays and toys. Since we have been appointed as the licensing agency for "'Moomin' for the German-speaking market and France, we have met with a great response from potential licensing partners, most recently at the virtual Brand Licensing Europe."
Marika Makaroff, Creative director and executive producer of Moominvalley: "We are so thrilled to be bringing Moominvalley to the German fans. We are glad that the Moomins have found a perfect home in Germany with our friends at ZDF. "
From November 25, the animated characters from "Moominvalley" will appear on German television daily at 6:15 pm. The program, which has already won the British Animation Award and the Finnish Golden Venla Award for best children's series and was nominated for the International Emmy® Kids Awards in 2020 will initially start with 26 episodes in Germany.
The "Moomins" - a family of white and roundish fantastical characters, with large snouts who represent values as love, friendship, respect for nature and tolerance. 
Rights & Brands is the master agent worldwide for Moomin with an established global licensing program with more than 800 licensees worldwide. These include theme parks and branded cafés as well as manufacturers of household goods, food and clothing. The retail value of the brand had increased more than eightfold since 2005 and amounted to EUR 750 million in 2019. In 2020 the brand celebrates its 75th anniversary. 
About Bavaria Sonor Licensing
Bavaria Sonor Licensing (BSL) is a division of Bavaria Media GmbH, a subsidiary of Bavaria Film GmbH. BSL represents brands like "PLAYMOBIL", "Masha and the Bear", "Care Bears", "Moomin", "Panini", "Janosch", "emoji®", as well as "Bud Spencer" and "Terence Hill". Last year Bavaria Sonor Licensing was named "Licensor/Licensing Agency of the Year 2019" at the Licensing International Awards.
About Rights & Brands 
Founded in 2016, Rights & Brands is a 360 licensing and publishing agency bringing Nordic brands to a global arena. Starting from a strategic base in literature, art and design, R&B's platform is built on knowledge, passion and people. Rights & Brands handles publishing, PR, licensing, merchandising and digital development, with a worldwide network of sub-agents and over 800 clients. They represent iconic Nordic brands, artists and authors such as Stig Lindberg, Carl Larsson-gården Sundborn, Ilon Wikland and Mauri Kunnas. Together with the John Nurminen Foundation, they are seeking to raise 1 million EUR to save the Baltic Sea with its charity campaign #OURSEA. 
www.rightsandbrands.com
About Gutsy Animations
See Good. Be Gutsy.
We are a company who believes that the world is in need of funny, clever and meaningful content. All of our productions are aimed at international audiences with positive impact.
www.gutsy.fi
Moominvalley has benefitted from Business Finland Audiovisual Production Incentive. 
About Moomin Characters
Moomin Characters Oy Ltd is the official copyright holder of all the Moomin characters, responsible for supervising and managing the Moomin brand, copyright and registrations. All characters from Moominvalley are trademark registered worldwide. 
The Moomins are central characters in a series of books and comic strips written between1945 and 1980. They are one of Finland's biggest exports and have a global fan base. After the first Moomin story was published in 1945, Tove Jansson (1914-2001), Finnish-Swedish writer and artist, wrote and illustrated eight novels, four picture books and hundreds of comic strips about the Moomins. The books about the brave, adventurous, yet home-loving Moomins have been translated into more than 55 languages and are still in print all over the world today. 
The Moomins have enjoyed international popularity since the 1950s, when the original Moomin comic strips were syndicated globally to tens of millions of readers, followed by animation series, theme parks, theatre plays on several continents. Today the company has over 800 licensees worldwide. 
The company was founded in the 1950's by Tove Jansson and her brother Lars Jansson to take care of the copyright of the Moomins and is still run by family members. Rights and Brands is the worldwide licensing agent of the company. 
Find out more about Tove Jansson and the Moomins here: 
www.moomin.com
www.tovejansson.com
Press contact:
Bavaria Media GmbH
Dr. Sebastian Feuß
Company Spokesman Bavaria Film GmbH
sebastian.feuss@bavaria-film.de
www.bavaria-media.de/licensing