Bavaria Sonor Licensing connects the brand "Bud Spencer" and St. Kilians Distillers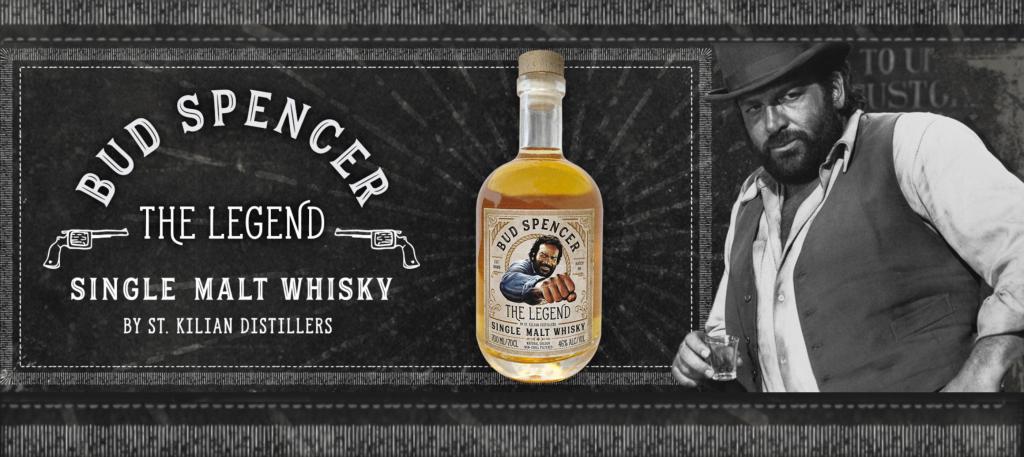 Munich, November 5th, 2020 - Bavaria Sonor Licensing (BSL) has arranged a licensing cooperation for the "Bud Spencer" brand and St. Kilian Distillers GmbH. Under the label "Bud Spencer - The Legend" a single malt whisky with Bud Spencer illustration will be available for purchase from selected retailers and online sales from November 16th, 2020.
BSL, a division of Bavaria Media GmbH, was appointed by the rights owner Plattfuss Vertriebs GmbH to expand the product world around the brands "Bud Spencer" and "Terence Hill" with licensing cooperations and corresponding licensed products throughout Europe.
Ivica Maracic, Licensing & Sales Director Bavaria Sonor Licensing: "Bud Spencer and whisky, that's simply the perfect brand and product fit. A western without whisky in the saloon would be like Bud Spencer without strong and very funny sayings. We are very happy that with St. Kilian Distillers we could win a multiple award-winning Bavarian distillery for Bud Spencer!"
Andreas Thümmler, CEO and founder of St. Kilian Distillers: "Courage and passion - that is what characterizes our work here at St. Kilian, but it also exactly matches the character of the iconic personality of Bud Spencer. The mixture of Italian temperament and American Western style is found in the blend of Amarone and Bourbon barrels and results in a fabulously aromatic single malt - Made in Germany".
Bud Spencer achieved world fame mainly through the collaboration with his acting colleague Terence Hill, with whom he has appeared in numerous action comedies. In doing so, he mostly played characters that were at peace with themselves, but powerful. BSL also has the brand "Terence Hill" in its license portfolio.
The double distilled "Bud Spencer - The Legend" whisky matures for three years in Amarone and ex-Bourbon barrels. The 0.7-liter bottles in a high-quality, chunky look, with a genuine wooden cork closure, will cost 34.90 Euros in retail.
About Bavaria Sonor Licensing
Bavaria Sonor Licensing (BSL) is a division of Bavaria Media GmbH, a subsidiary of Bavaria Film GmbH. BSL represents brands like "PLAYMOBIL", "Masha and the Bear", "Glücksbärchis", "Moomin", "Panini", "Janosch", "emoji®", as well as "Bud Spencer" and "Terence Hill". Last year Bavaria Sonor Licensing was named "Licensor/Licensing Agency of the Year 2019" at the Licensing International Awards.
About St. Kilian Distillers
St. Kilian produces single malt whisky made in Germany, inspired by whisky cultures from all over the world. Pure barley malt meets original Scottish pot stills - and decades of whisky know-how meets German engineering. The whisky distillery is located less than an hour's drive from Frankfurt am Main, amidst landscapes reminiscent of Scotland. Even though the St. Kilian Single Malts are still relatively young - the six Signature Editions have matured in their barrels for just three years - they have already won awards all over the world and in numerous national and international competitions. The smokiest Edition FOUR, for example, received all the major prizes at the "London Spirits Competition" and won the gold medal for the best whisky of the year with 97 out of 100 points.