MILKA LAUNCHES THE "PLAY WITH MILKA" COMPETITION IN PARTNERSHIP WITH PLAYMOBIL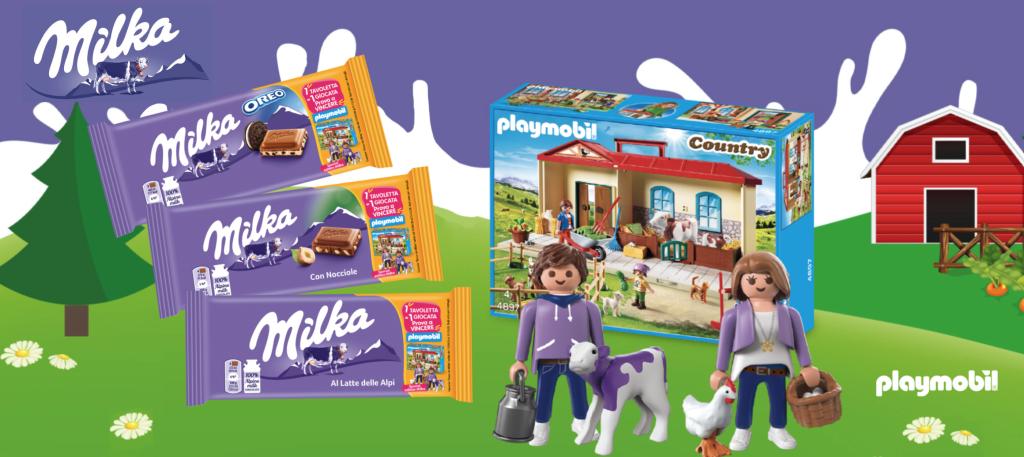 The "Gioca con Milka" competition kicks off on September 15th: creative concept, flash on pack, point of sale materials, website and TV tail are signed by Wave Design & Communication
Milka, a brand of the Mondelēz International group, in partnership with PLAYMOBIL launches the "Gioca con Milka" competition which combines the tender world of chocolate with the fun world of PLAYMOBIL, for a competition dedicated to families.
 From the collaboration between Milka, a chocolate brand produced with 100% alpine milk appreciated by children as well as by gourmands for almost 120 years, and PLAYMOBIL, the historical playfellow of children, the "Gioca con Milka" competition was born.
Milka's 100% alpine milk and the iconic PLAYMOBIL characters are the basis of the creative development of the initiative carried out by the Milanese agency Wave Design & Communication, which has developed a 360-degree activation: from the pack, to the materials at the point of sale, from TV to a dedicated website.
From 15 September until 31 December 2020, with each Milka chocolate bar it is possible to participate in the "Gioca con Milka" competition and, by entering the receipt data on the dedicated website https://www.giocaconmilka.it/, find out immediately if is won. Up for grabs 500 PLAYMOBIL kits consisting of a farm and two Milka Special Edition characters, capable of stimulating imagination and creativity by recreating all the tenderness of the Milka world.
"In Milka we value the pleasure and importance of being with the family while having fun and in PLAYMOBIL we have found an authoritative partner who shares our same values ​​as play is synonymous with sharing and sociability. - comments Albane Aronio De Romblay, Senior Brand Manager Milka, Mondelēz Italia - With the 'Gioca con Milka' competition and thanks to the PLAYMOBIL characters we like to think that we can transport young and old into the enchanted world of the Alps where all the milk comes from used in our chocolate ".
"We are happy to join this initiative - explains Andrea Galmozzi, PLAYMOBIL Italia marketing manager -. The portable farm is one of the many PLAYMOBIL playsets perfect for stimulating the curiosity and imagination of children who can develop their creativity and relationship skills through play. What makes the initiative even more unique is the development of two limited edition PLAYMOBIL characters - Milka that also include the famous and iconic lilac cow. We are sure that these characters will be very coveted among our little fans and collectors ".
• LEIBNIZ ZOO verlost täglich 33 PLAYMOBIL Zoo Spielsets
• Für jeden Geschmack die richtige Sorte
• Leckerer Knab­ber­spaß für die ganze Familie
Für die Promotion zu Ostern 2019 hat die Bavaria Sonor Licensing eine internationale Lizenz gezeichnet und die beiden Brands PLAYMOBIL® und Milka zusammengebracht. Entstanden sind Milka-Osterprodukte im PLAYMOBIL® -Design.