BSL connects Wild River Games and Simba Dickie Group for first video game appearance of BIG-Bobby-Car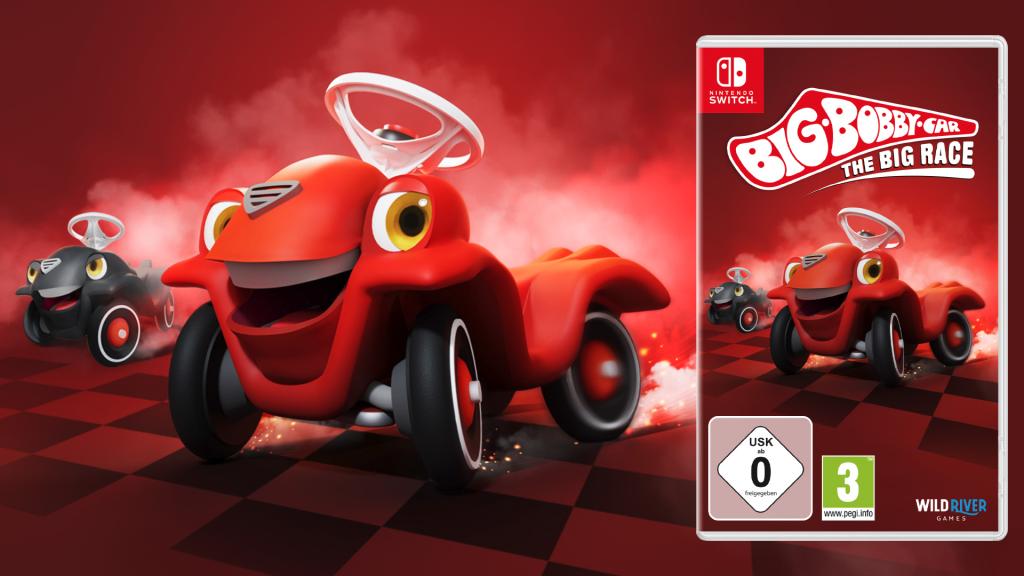 BSL connects Wild River Games and Simba Dickie Group for first video game appearance of BIG-Bobby-Car
Licensing agency Bavaria Sonor Licensing (BSL), a division of Bavaria Media GmbH, has brought together the Munich-based games publisher Wild River Games and the toy manufacturer Simba Dickie Group in cooperation. Together they present "BIG-Bobby-Car – The Big Race", the first video game appearance of the toy car of the same name. BSL is the licensing agency for the BIG-Bobby-Car brand in Germany, Austria and Switzerland.
The adventure racing game "BIG-Bobby-Car – The Big Race" will launch in September 2020. Players slip into the role of a BIG-Bobby-Car animation and interact with other characters from the Bobby-Car world: from the classic Bobby-Car to the newer models NEO and NEXT. Throughout the story, there are more than 40 racing missions and challenges on various race tracks, such as rapid 360-degree drifts around traffic cones or finding exciting collectibles.
Ivica Maračić, Licensing & Sales Director at BSL: "We are very happy that we have brought together two well-known partners for this project full of variety. Wild River Games transfers the daily driving fun with the BIG-Bobby-Car into the digital gaming area in a very funny and creative way. We are sure that not only kids will experience exciting races."
Marc Wardenga, Managing Director at Wild River Games: "The BIG-Bobby-Car" is one of the strongest toy brands in Germany. It is an integral part of childhood, not only in Germany, but also internationally. Our aim is to transfer the enthusiasm of children and parents for the BIG-Bobby-Car brand to the world of digital games. In video games we can bring children's fantasies to life."
Werner Lenzner, Licensing & Strategic Development Manager at the Simba Dickie Group: "We are delighted to have won Wild River Games, a well-established publisher for games, who will join forces with us to find new ways to present our brands, such as "BIG-Bobby-Car", to consumers away from the classic toy market.
The video game "BIG-Bobby-Car - The Big Race" is a German production. It is developed by Independent Arts Software in Hamm, Germany and published by the Munich publisher Wild River Games. The game is aimed at five to eight-year-old children and will be available for Nintendo Switch, PlayStation 4 and PC from September 24, 2020.
About Bavaria Sonor Licensing
Bavaria Sonor Licensing (BSL) is a division of Bavaria Media GmbH, a subsidiary of Bavaria Film GmbH. BSL represents brands such as "PLAYMOBIL", "Masha and the Bear", "Care Bears", "Moomin", "Panini", "Janosch", "emoji®", as well as "Bud Spencer and Terence Hill". Last year, Bavaria Sonor Licensing was named "Licensor/Licensing Agency of the Year 2019" at the Licensing International Awards.
About Wild River Games
Wild River Games is a publisher and developer under the umbrella of the internationally successful TELEPOOL group. The global TELEPOOL Group with locations in Munich, Zurich, Leipzig and Los Angeles develops, produces, distributes and exploits national and international cinema and TV films and series.
For this purpose, in October 2019 TELEPOOL acquired the Munich development studio, which until then had been known as Dividad,. Managing directors of Wild River Games GmbH are Marc Wardenga, former Head of Games at EuroVideo Medien, and the industry experienced Ralf Gronwald. Wild River Games produces games for all popular platforms and all target groups (Family & Kids & Gamers). The spectrum ranges from licensed titles of well-known brands for a young audience such as the action adventure game "bayala - Das Spiel" to games such as the innovative action space shooter "Battleplanet: Judgement Day" or the PC role-playing game "Das Schwarze Auge: Book of Heroes", which will be released in 2020. The focus of all Wild River titles is on maximum gaming fun through lean but effective game mechanics and intuitive operating concepts.
About BIG/SIMBA DICKIE GROUP:
The range of toys produced by the BIG-Spielwarenfabrik extends from children's tractors, play sets, water rides and sand toys to skidding vehicles such as the world-famous BIG-BOBBY- CAR. The complete production of the company, founded in 1938 as Metallwarenfabrik Johann Höfler, was completely converted to plastic in 1956 by the company owner, Dipl.-Ing. Ernst A. Bettag. Since 2004 BIG has been part of the SIMBA DICKIE GROUP.
As one of the top five toy manufacturers in Europe, the SIMBA DICKIE GROUP is active around the globe with 3,090 employees. The family business, founded in 1982 by Fritz and Michael Sieber, achieved a turnover of 702.3 million euros in 2019. The diverse range of toys includes more than 4,000 items, from the well-known BIG-BOBBY-CAR to Schuco collector's models and radio remote controlled vehicles from Dickie Toys to the dress-up doll Steffi Love from Simba Toys, wooden blocks from Eichhorn or toy cars from Majorette. The company philosophy can be described in five words: we love to make toys. This guiding principle is reflected in the values of responsibility, credibility, innovation, quality and service.