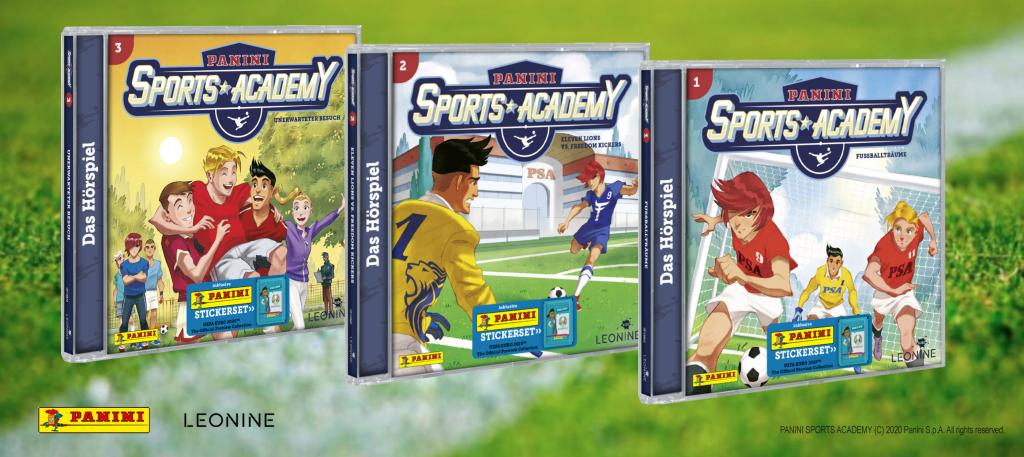 Passion for sports, Friendship, Team Spirit are the ideal context that host Panini Sports Academy's adventures. Join Rafael and his friends in the pursuit of any teenager's dreams.
Munich, 13th July 2020 – Panini S.p.A., Leonine Distribution and Bavaria Sonor Licensing, a division of Bavaria Media, are delighted to announce the release of the first three episodes of the new audio-play series PANINI SPORTS ACADEMY ("PSA"), which hit shelves on the 10th of July 2020. The Modena-based worldwide famous stickers and trading cards Company is now approaching the entertainment industry, with the support of Leonine Kids, strong player in that sector. The audio-play series is available in German speaking countries only, both in digital (Amazon Music, Apple Music, Spotify, etc.) and physical (Amazon, Media Markt, Saturn and other retailers) format, and is targeted at children aged 7-12.
PANINI SPORTS ACADEMY listeners will experience what a sports academy looks like by following Rafael – the main character of the series, a 12 years old guy who wants to become a professional footballer – and his friends' adventures. PSA is not just about football: it is about sports in general, friendship, ambition, team spirit and the everyday challenges that teenage boys and girls normally face – school-life, choices, dreams, uncertainties, secret crushes, lies and mistakes.
All the parties firmly believe in this project, which has been brokered by Bavaria Sonor Licensing, Panini's exclusive licensing agent in Germany, Switzerland, Austria and Benelux. "We are very pleased to have contributed to create PANINI SPORTS ACADEMY audio-plays" says Ivica Maračić, Licensing & Sales Director at Bavaria Sonor Licensing. "For the first time Panini is expanding its brand into content, marking a new era in Panini's history. Football fans and sports-loving kids will be excited by the thrilling stories."
The plot, which is very modern and captivating, has been created and developed by Leonine team and the outcome is great: the characters are not represented like superheroes but as teenagers who follow their dreams and passions day by day. Ingrid Hölzel, SVP Marketing Audio, Anime and Kids at Leonine Distribution, is very proud of the joint work that has been done so far: "It was a real pleasure to develop those great stories. We hope to add excellent quality to all the football fans, no matter what age". Boys and girls are going to be immediately engaged in the progress of the story and will identify themselves with their favorite characters: PANINI SPORTS ACADEMY includes both male and female teams, which are going to face hard, exciting and stimulating challenges to become the best ones.
Panini has been fully involved in the project and created the PANINI SPORTS ACADEMY universe, developing its logo, the characters, the overall visual and mood of the series, as well as the website which will be continuously update with new content for PSA fans (www.paninisportsacademy.com). Panini and Leonine will work hand in hand in supporting the release of the audio-plays with a strong marketing plan. "We loved the idea of a Panini branded audio-play since the very beginning and found in Leonine a great partner to shape up the world of PSA and its compelling characters" comments Tony Verdini, Senior Manager Business Development and Partnerships at Panini S.p.A., "We have confidence that this top-notch, highly qualitative new series will meet the favour of a large audience."