RIGHTS & BRANDS APPOINTS BAVARIA MEDIA AS NEW MOOMIN LICENSEE IN GERMANY, AUSTRIA AND SWITZERLAND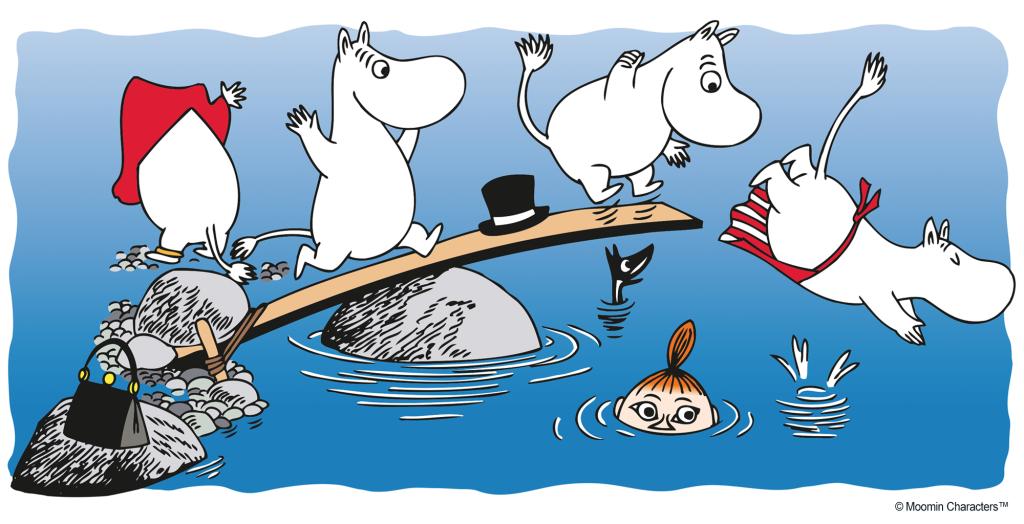 The hugely successful character brand Moomin has added a new brand licensing partner to its worldwide network: Bavaria Sonor Licensing - the licensing division of Bavaria Media GmbH. They have been appointed by Moomin master agent Rights & Brands to manage licensing in Germany, Austria and Switzerland.
Rights & Brands have ramped up the licensing programme over the past year to mark the Moomin's 75th anniversary. The brand is on a roll and shows no sign of slowing down: over the past ten years, turnover has grown tremendously and the number of Moomin licensees has almost tripled worldwide.
The Moomins – a family of plump white trolls with large snouts – are the central characters in a series of books and a comic strip created by Finnish-Swedish writer and artist Tove Jansson between 1944 and 1971. Jansson achieved worldwide fame as writer of the stories which follow the characters' adventures in the idyllic and peaceful Moomin Valley.
Bavaria Media has a proven track record helping their brands produce memorable moments and create stories in people's minds. Founded in 1983 and based in Germany, the company manages international film, tv and music licensing, as well as content distribution. Bavaria Sonor Licensing - the licensing division of Bavaria Media - was named 'Licensing Agency of the Year 2019' at the Licensing International Awards in Germany. Their numerous clients Include Playmobil, emoji, Bud Spencer & Terence Hill, Janosch, Big-Bobby-Car and Panini.
"We are delighted to welcome the Moomins to Bavaria Media – we feel honoured to have the opportunity to represent this timeless, classic brand," says Ivica Maracic, Licensing and Sales Director at Bavaria Sonor Licensing. "The Moomin Characters have been loved for generations and we are thrilled to extend the licensing success story into Germany, Austria and Switzerland."
"It's wonderful to add a new sub-agent in these important markets," says Roleff Kråkström,
CEO of Moomin Characters. "And it's great timing to have Bavaria Media onboard when the Moominvalley TV show is about to launch in Germany and Switzerland. The Moomin brand is constantly growing, both in revenue and awareness and we are actively building on this momentum. Bavaria Media are exactly the kind of partner we need in order to expand the Moomin market share in this region."
Moominvalley has been acquired by ZDF, the German public-service television broadcaster, to be shown on ZDF's platforms and on KiKA, their free-to-air children's channel.
"I feel happy and proud that ZDF is our partner in Germany," says Marika Makaroff, Executive Producer and Creative Director of Moominvalley at Gutsy Animations.
Moomin first ventured into brand licensing in the 1950s with a range of hand-painted mugs released by Tove and her mother. Moomin now has an established global licensing programme with over 700 licensees worldwide. These include theme parks and branded cafés, as well as companies selling homeware, food and apparel. This global network has increased the dedicated customer base - working with Bavaria Media will help reach an even wider range of retailers, to offer fans a more diverse range of products.
Patrick Ullman, CEO of Rights & Brands, says this partnership is another step in their plan to maximize the Moomin's international presence.
"We are excited to welcome Bavaria Media into the family as part of our strategy - they are a great company with a lot of experience and success managing iconic brands," he says. "The Moomins and Nordic literature are very popular in Germany, so it's a huge potential market."
For more information, please contact:
RK Communications
Rebecka Bjelfvenstam Keeling
Communications Manager
rebecka.keeling@rkcommunications.nz
Rights & Brands
Patrick Ullman
CEO
patrick.ullman@rightsandbrands.com 
Elin Larsson
Marketing Coordinator
elin.larsson@rightsandbrands.com
About Bavaria Media
Bavaria Media has been a licensing specialist since 1983. They manage International film, tv and music licensing, as well as content distribution. Bavaria Media are a full-service agency that offers its rights holders and licensees the complete range of services and has the best contacts in all areas of the consumer goods industry. You can find them at all major trade fairs such as the Nuremberg Toy Fair, Brand Licensing in London, the Licensing Expo in Las Vegas, ISM in Cologne and the Munich Licensing Market.
About Rights & Brands
Founded in 2016, Rights & Brands is a 360 licensing and publishing agency bringing Nordic brands to a global arena. Starting from a strategic base in literature, art and design, R&B's platform is built on knowledge, passion and people. Rights & Brands handles publishing, PR, licensing, merchandising and digital development, with a worldwide network of sub-agents and over 800 clients. They represent iconic Nordic brands, artists and authors such as Stig Lindberg, Carl Larsson-gården Sundborn, Ilon Wiklanda and Mauri Kunnas. Together with the John Nurminen Foundation, they are seeking to raise 1 million EUR to save the Baltic Sea with its charity campaign #OURSEA.
About Moomin Characters
The Moomins were created by Tove Jansson (1914-2001) - a painter, illustrator, author and one of Finland's key artists. Moomin Characters Oy Ltd is the official body responsible for Moomin copyright supervision. The company was founded by Tove Jansson and her brother Lars Jansson in 1958 and the company is still run by family members. All of the Moominvalley characters are globally registered trademarks.